What are our customers saying about our work?
From time to time our customers leave us reviews from the work we have done. Below are a few of our most recent ones
Garden renovation

" After finishing work on ill health our garden had become neglected. After reading excellent reviews we decided to ask PJM Paving and Landscaping Services for their help. Pat and his team were happy to do so. They arrived on time each day, were always polite and friendly and cleaned up after each shift. They worked so, hard and have completely transformed our garden . We have had the decking and grass replaced with Indian stone and it looks stunning. Easy to maintain and lovely to look at. We absolutely love it and highly recommended Pat and his team. Thank you all so so much. "

Says Customer in Newcastle | 12 April 2019
Paving of front garden

" Excellent job done, very tidy, Pat has a good team who work very well together, front garden just as I wanted. Site cleared of bushes, and old paving slabs in a couple of hours, weed membrane and hogging on, all ready for the next day when the paving slabs delivered, started to lay the paving slabs Tuesday and edging bricks. The weather was not kind, but they still completed the job by Thursday. Extremely pleased. Thanks Pat and team. "

Says Customer in Nantwich | 11 March 2019
Turf removed and replaced with paving and gravel

" My mother wanted a small lawn in her back garden removed and replaced with gravel. Pat and his team did exactly what mum wanted. The results are superb and if anything better than we had hoped for. The lads were great, turned up when they said they would and kept us informed throughout the day. They didn't leave one scrap of mess or rubbish. The garden looks amazing and we would definitely recommend Pat and his team to anyone wanting landscaping work done. "

Says Customer in Stoke-on-Trent | 25 February 2019
Block paved driveway

" We are very pleased with our new block paved driveway completed a few weeks ago by PJM Paving and Landscaping Services. We had 5 quotes and chose PJM Paving and Landscaping Services after reading Checkatrade reviews and visiting one of their recent jobs. The team started on the scheduled day and worked extremely hard to finish the work in just over 3 days as stated. The job was completed to a high standard with nice finishing touches that we didn't ask for. All the work was completed for the agreed quoted price. Should we need any further work doing we would certainly use PJM Paving and Landscaping Services again. Highly recommended. "

Says Customer in Stoke-on-Trent | 3 August 2018
Indian stone patio, wall and steps

" Once again, Patrick and his team have done a fantastic job! This is the 4th job Patrick has done for me, (block drives, paths and patio at 2 previous properties) as well as the drive at my current property. The guys always do a brilliant job. The patio that they have just finished is stunning, better than I hoped for. The Indian stone looks lovely and a brick wall and steps down to the garden set it off beautifully. Fantastic job, I'm delighted! I highly recommend Patrick and his team to everyone. I cannot praise their work too highly. I am a VERY satisfied customer!! "

Says Repeat Customer in Stoke-on-Trent | 12 July 2018
New Block Paving Drive-way

" Pat and his boys were absolutely fantastic, I would urge anybody considering having similar work done to use PJM. They were punctual, respectful and the work that they've done is second to none. Very hardworking set of lads, I wouldn't use anybody else having dealt with Pat. "

Says Customer in Stoke-on-Trent | 9 July 2018
Bock paved driveway

" This is the third time Patrick and his team have done work for me. Once again I am delighted with the finished drive. The work was competed in 3 days, to a high standard and a very competitive price. Lots of neighbours have commented on the finished drive looking lovely. I would recommend PJM Paving and Landscaping Services to anyone. "

Says Repeat Customer in Stoke-on-Trent | 18 June 2018
New drive, block paved pathway, artificial lawn

"The driveway and path were in really bad condition - I'm speechless at how well it turned out. There was a concrete driveway (that was raised), pebbled, brick and flagged pathway and dead grass lawn - which we have tried to revive. All of it was removed and looks smart, classy and just what we wanted. The price we were quoted was the price we paid. Would definitely recommend and we are having them back in September!!"

Says Customer in Stoke-on-Trent | 10 May 2018
Patio

"I would highly recommend Pat and his team. The guys are hard working and reliable and completed the job as requested and timely. They left the area clean and tidy once work was completed. The actual workmanship and attention to detail was faultless. We are very pleased with the end result."

Says Customer in Stoke-on-Trent | 11 April 2018
So if you're looking for a paving & landscaping company in Staffordshire with many years experience in the paving & landscaping trade then look no further than PJM Paving & Landscaping Services. Whether it's a query or a quote, pick up the phone and call 07555629068 today or visit our contact page or send us an email.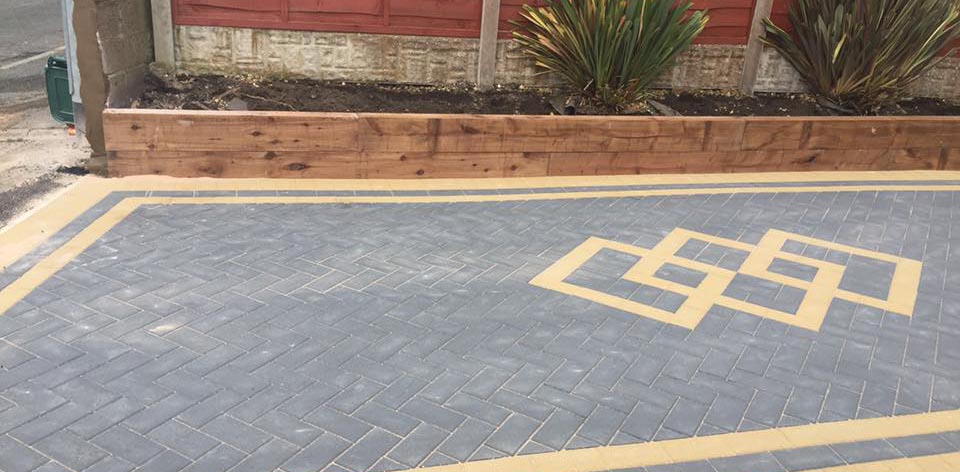 Erection of concrete fence in residential garden

"Very pleased with the job. They arrived on time and got cracking straight away. Cleaned up well and finished well before I expected. The fence material itself was also much nicer than anticipated as I've seen other concrete and panel fences and they don't look as nice."

Says Customer in Congleton | 22 January 2018
Removal of old paving slabs to driveway and replace with new block paving

"Pat and his team were engaged to remove old paving slabs from the driveway and replace with new feature block paving, The property was empty, Pat assured me of a good job, he did not want any payment until completion and was left to get on with the works. I met Pat a few days after completion to inspect the installation with him - he had completed the works on time all as per the quoted price transforming the look of the driveway with feature edging and a good standard block paving finish."

Says Customer in Stafford | 13 November 2017