What are our customers saying about our work?
From time to time our customers leave us reviews from the work we have done. Below are a few of our most recent ones
Paving and landscaping

" Pat want a penny until the job was finished.An and his team were excellent.He gave us lots of advice arrived on time, left the site tidy didn't want a penny until the job was finished.An ugly man hole cover was camouflaged within the sandstone flagging, now it is not even noticed.His ideas were from years of experience not the pushy salesman we are all familiar with.If you're looking for an excellent paver look no further, well done Pat and your team would highly recommend you. "

Says Customer in ST8 | February 2021
Renovations and landscaping of the rear of my home

" Pat is a very Professional Man. His guys work very hard to deliver exactly what you have asked of them. They are incredibly delightful to work with and deliver the promise and commitment they have made, leaving a spectacular job completed in time and on time. No money exchanges hands until you are completely happy with the job. "

Says Customer in Stoke-on-Trent | December 2020
Remove hedges and replace with picket fence, resurface driveway and returf lawn

" Very efficient, neat and tidy . Friendly workforce who couldn't be more helpful and polite. They were always willing to answer our questions and concerns without hesitation. All in all an excellent team to work with cheerful and hard-working even in the worst of weathers. "

Says Customer in Stoke-on-Trent | November 2020
New driveway

" Arrived on time every day. Really hard working team who are happy, cheerful, polite and easy to talk to. Pat listens to any worries you have and you can trust him to sort them, very helpful guy. Would definitely recommend them , they did a brilliant job for a good price "

Says Customer in Stoke-on-Trent | October 2020
Block paving and shale driveway

" Great job, the driveway now looks much more modern and is more useable. Would use again for future work. "

Says Repeat Customer in Stoke-on-Trent | August 2020
New blockpaved drive with fencing, gates fresh turf.

" Fantastic group of lads, an absolute pleasure having them do the job. Pat keeps you fully informed all the way through and, having previously had a bad experience with builders, he kept me reassured and feeling very confident. He looked after us and our property. The land looks beautiful now, and they made very light work of a large job. Highly recommended. I will certainly use them again. "

Says Customer in Stoke-on-Trent | July 2020
So if you're looking for a paving & landscaping company in Staffordshire with many years experience in the paving & landscaping trade then look no further than PJM Paving & Landscaping Services. Whether it's a query or a quote, pick up the phone and call 07555629068 today or visit our contact page or send us an email.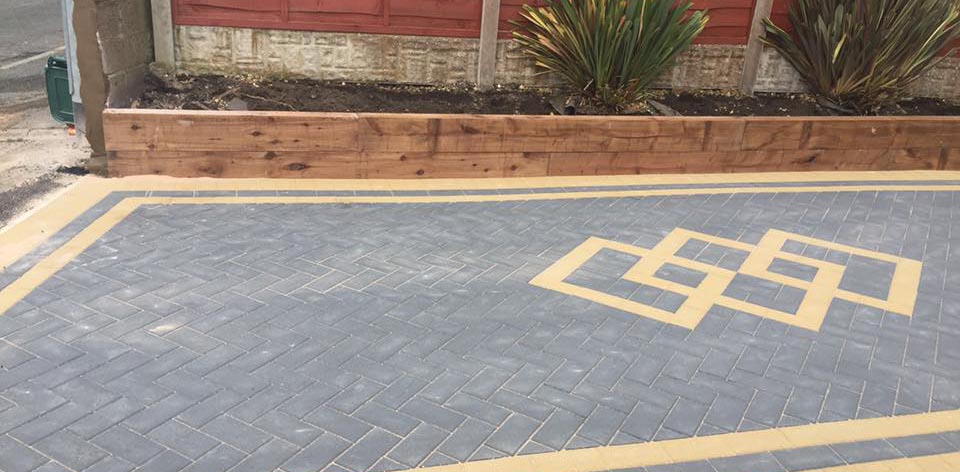 2 Large flower beds removed. Top Garden Patio, Bottom Garden Patio, Steps removed and replaced whole area block paved from back to front includidng drive.

" Excellent service. Really pleased with the result. Friendly, hard working team. Pat is very approachable and friendly. Nothing was too much trouble. Even included extras that we didn't know we needed, at no extra cost. Would definitely use again. Thank you very much. "

Says Repeat Customer in Stoke-on-Trent | July 2020
Patio

" A big thank you to Pat and his team (Aaron, Adam and Dave) who today completed our 60m2 patio in rustic grey Indian sandstone despite very challenging UK weather conditions. The job was started in a full day of heavy rain and was completed in 2 days of extreme heat. It's the second time we have used PJM. 2 yrs ago we had driveway done that still looks well. I would not hesitate to recommend PJM. If you want a job done at a competitive price and to a high standard then call PJM. You won't be disappointed! Thanks again Pat and team! "

Says Customer in Stoke-on-Trent | June 2020
New drive way

" PJM Paving completed our neighbours drive and we were so impressed we asked Pat to do ours. We are so pleased with our drive it really is a transformation! They did everything they said they would above and beyond, so impressed. We highly recommend PJM Paving. "

Says Customer in Stoke-on-Trent | February 2020
Overgrown back garden totally dug out, overgrown hedges removed, fence erected and 100 square meters block paved with a lovely diamond design in the middle

" The team that he has work unbelievably hard I've never seen anyone so dedicated and organised in their work, they obviously enjoy what they do, Great bunch of lads! Pat said on day 1 (monday 8:00am) that the job would be finished on friday and cleared up, and was spot on! I never imagined that everything thats been done would be carried out in 5 days, I would recommend pat and his team to anybody without a doubt! If your readin this and wondering who to choose for your garden or driveway dont hesitate get Pat at PJM Paving and Landscape Services you won't regret it. Once again, thank you... "

Says Customer in Stoke-on-Trent | February 2020
New paved front garden

" Great company, excellent job done , great value quality job. Highly recommended Pat and his team. We love our new driveway no more parking outside on the road. "

Says Customer in Stoke-on-Trent | February 2020